King Henry's Arms Pub
Open Mic Nights
hosted by Shane Joseph
A passion for music, for voices,
for discovery, for people.
The KHA Open Mic is a weekly live music event in Richmond Hill where musicians and singer-songwriters are welcome to showcase their material in front of a live audience. If you're a singer-songwriter, musician, or a cover artist, then this is the place to be, as you can play solo, duo, or even build your own band by meeting and networking with fellow musicians. We also host featured artist sets on occasion to promote upcoming musical releases for our regular musicians.
At King Henry's Arms, you can find a wide array of beers on tap (including several rotating local Ontario craft beer taps) and, hands down, the best food of any pub in Richmond Hill. Join host Shane Joseph and proprietor Anders Lindfors along with local musicians and singer-songwriters for an always entertaining Sunday night every week from 9pm to 1am. KHA Open Mic is the longest running acoustic open mic in Richmond Hill (7 years and counting) and is proud to host a space for our local musicians to share their music with the community.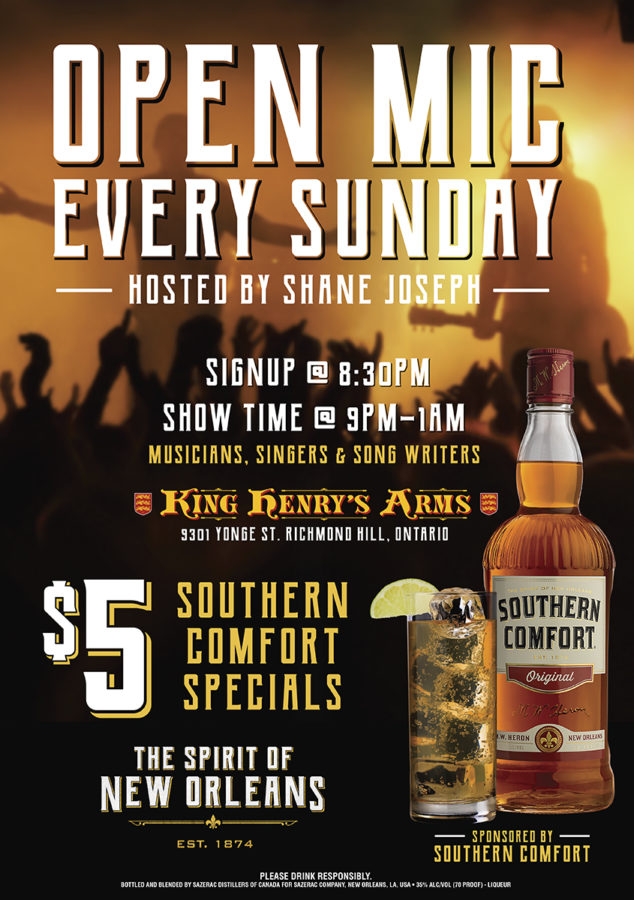 King Henry's Arms
9301 Yonge St
(South Hill Shopping Centre)
Richmond Hill, ON
(905) 787-0900
About Shane Joseph, your KHA Open Mic host:
Shane Joseph is a long-time musician and songwriter from Richmond Hill, who currently plays drums in local indie bands, The Cunninghams and Black Creek Reign. Having has also worked with several other artists over the years as a session drummer/percussionist, some names on his resume include (but are not limited to) Ben Crosby, Jay Dee, John Shisko Band, Laurelle Augustyn, Derek Christie, Jonny Starkes, and many more. He also occasionally sings and plays guitar in an acoustic duo with his friend, Mark Stratton under the name 'S&M Duo' at local festivals as a cover act.